Posted on July 24th, 2015.
I posted this review on Imgur and Reddit a few days ago, but figured I would blow the dust off my blog and post it here too.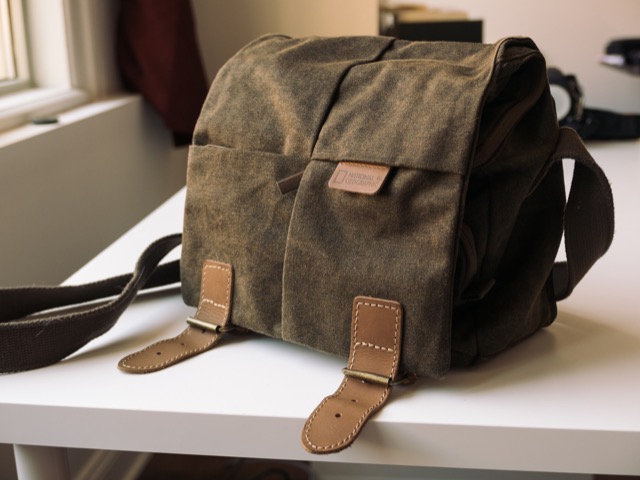 I got this bag a few months ago. I've used it to shoot around town and flown/traveled with it a couple times. At first I wasn't thrilled with it, but I've warmed up to it now and really like it.
I bought it at the Geographic Bags site for about $50 new. It's sometimes on Amazon if Nat Geo is out of stock (affiliate link).
I use it for two main things: a day bag for walking around town, and a "personal item" on a plane where I load it down with all my camera gear to save the weight in my carry on.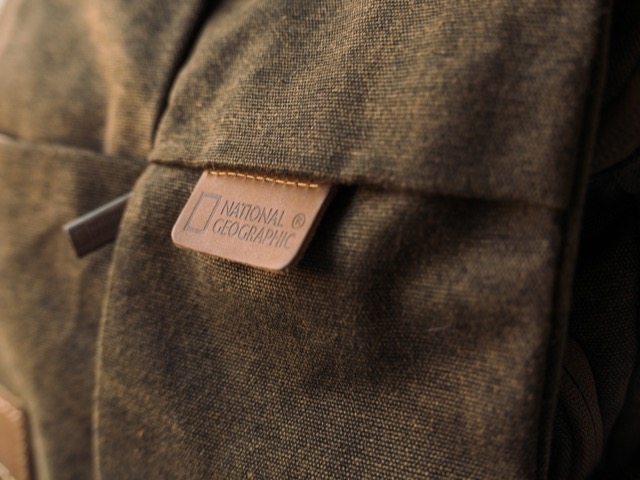 I like the branding/styling a lot. I'm pretty sure Nat Geo licenses the branding to Manfrotto to actually make the bags, because when mine came the return address on the shipping label was a Manfrotto warehouse.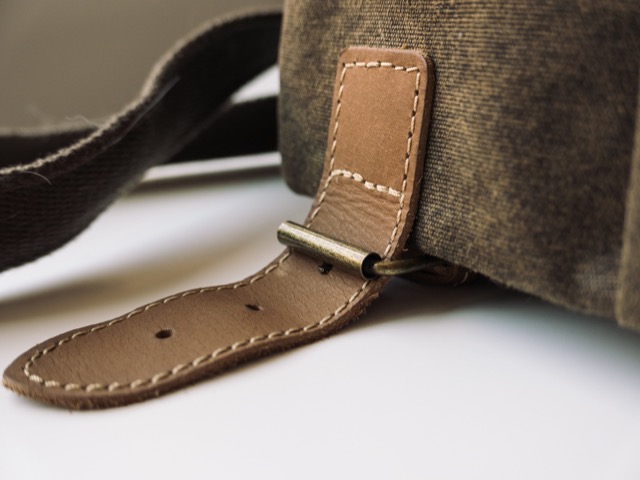 The construction is really nice. The stitching seems pretty solid, if a bit uneven in places, but this is meant to be a working bag, not a piece of art. The leather bits seem hearty. The buckles are okay (not amazing, but good enough for the price).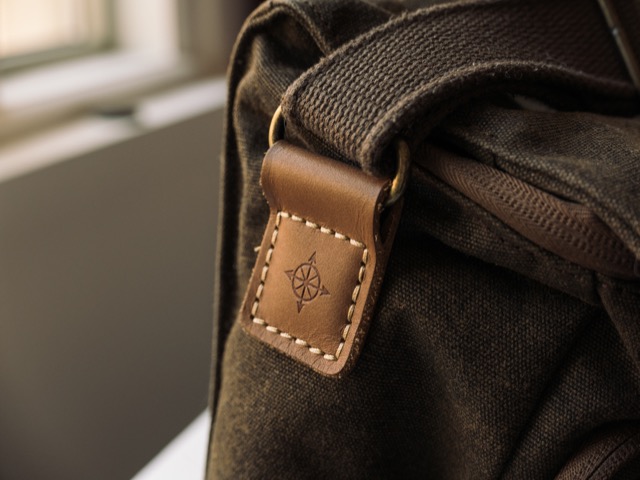 Attachment points for the strap are solid. The strap is not removable, unfortunately, but at the price I'd rather have a solid, permanent strap than a removable one with flimsy connections.
The strap itself is fine. It's strong and I don't see it breaking any time soon. It's a little bit thin, so if you load the bag down a lot it can start to dig into your shoulder a bit. Luckily...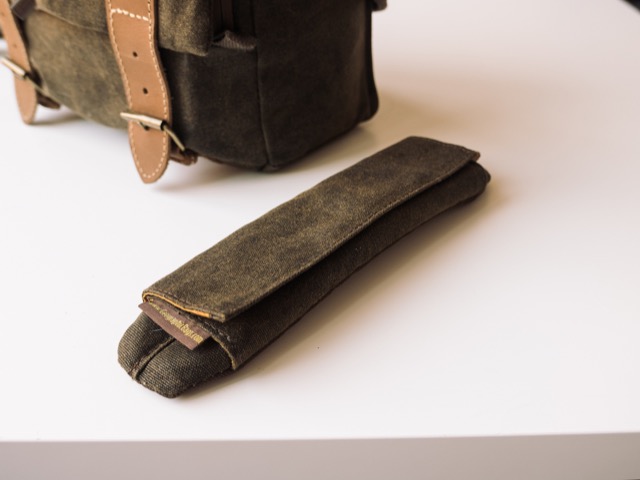 There's an optional shoulder pad you can buy for the strap.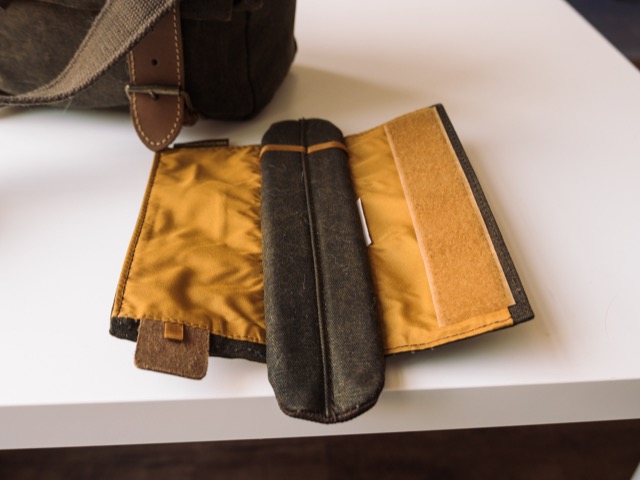 It's got nice thick padding, and velcros around the strap.
(Please excuse the cat hair in all the photos).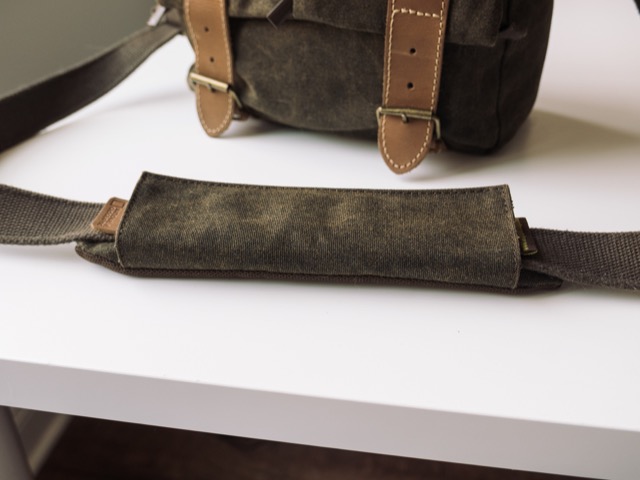 I use it when I've got more than a couple of pounds in the bag to save my shoulders. When I'm using it as a day pack I take it off.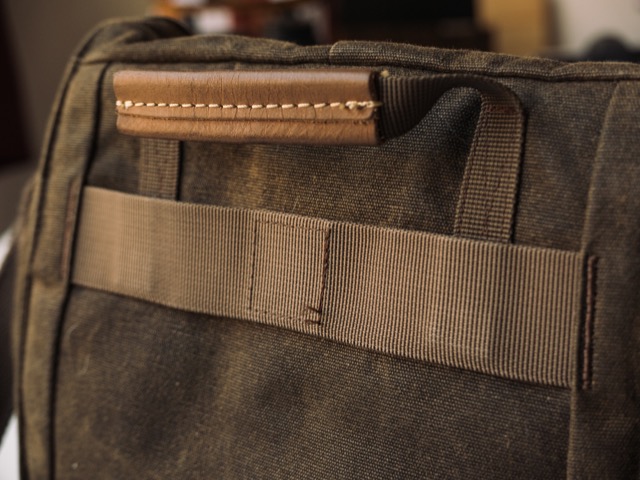 The back handle is great for carrying it if you're wearing a backpack, yanking it out of places, etc.
There's also a little strap on the back — it's designed for sliding the handle of some rolling luggage through it so it can rest securely on top. The stitching on the velcro bit on it is fraying a bit for me. I don't really care because I never use it anyway.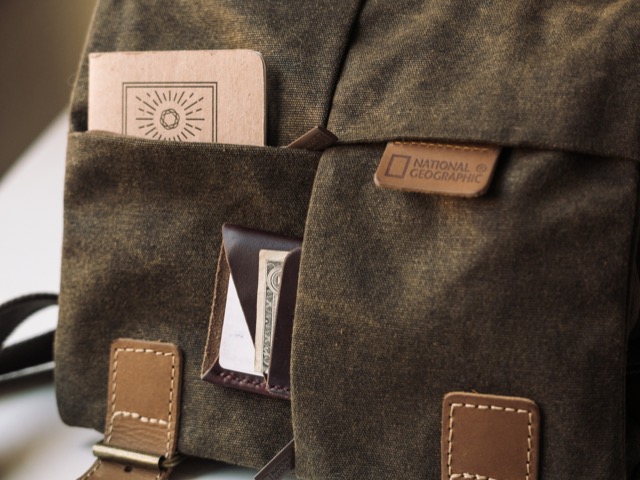 There are two small, sleek pockets on the front. They're not huge, but they'll hold something wallet or small notebook-sized.
I wouldn't keep a wallet in them though, because they're too easy to access/pickpocket.
For day trips I generally use them to hold lens caps while shooting, for lens cleaning cloths, etc. When I fly I use them to hold a polarizer and neutral density filters (77mm filters, in their plastic cases, will fit nicely (not pictured, sorry, I forgot)).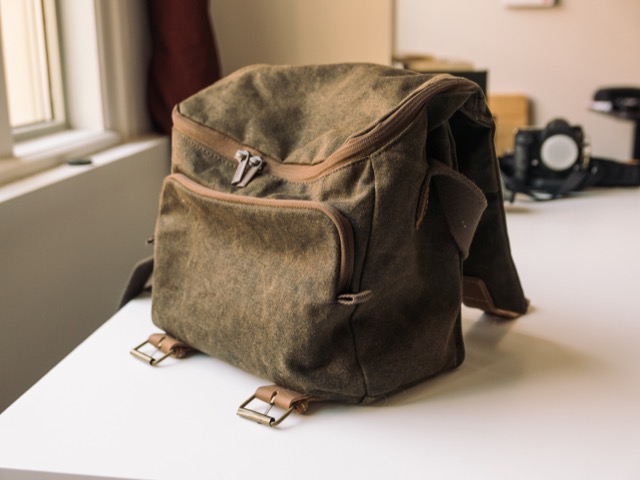 Once you unbuckle the top flap there's still a zipper protecting the contents.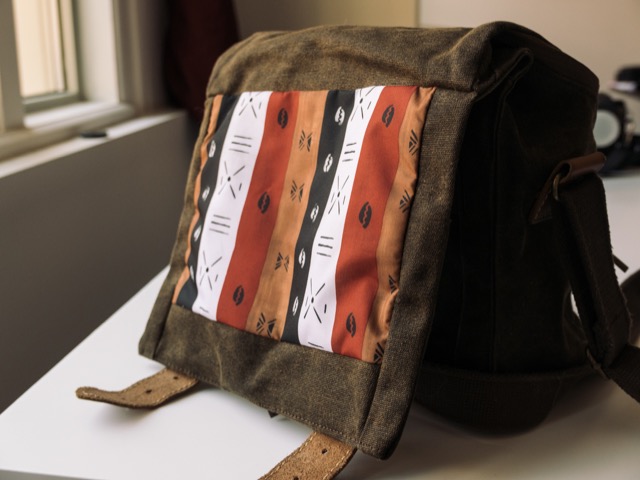 The flap has some nicely patterned fabric to break up the brown.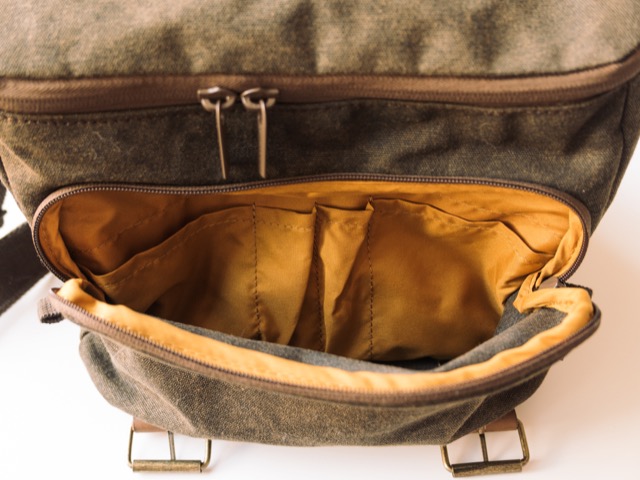 The front pouch is good for holding some small stuff. It's got dividers for holding really thin things like pens and notebooks.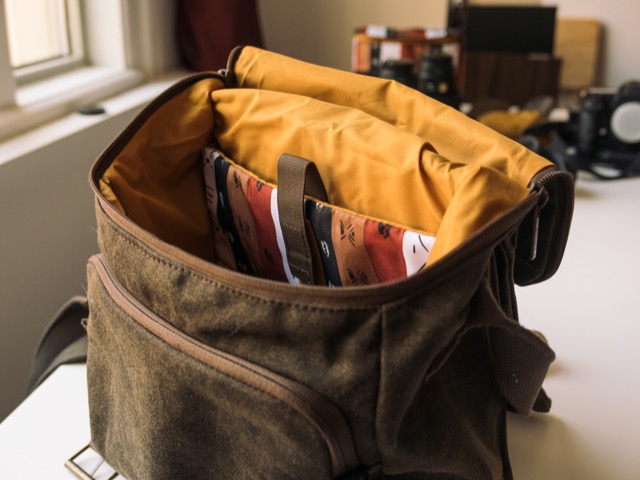 The inside lining is nice and bright so it's easy to find small things.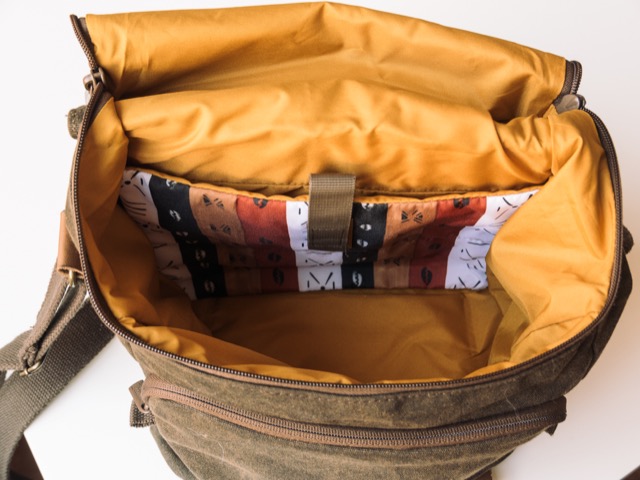 The bag itself has one big main compartment. There's one small padded divider flap with a velcro bit to hold it down.
It doesn't hold very much, but it's enough for a Kindle or small book.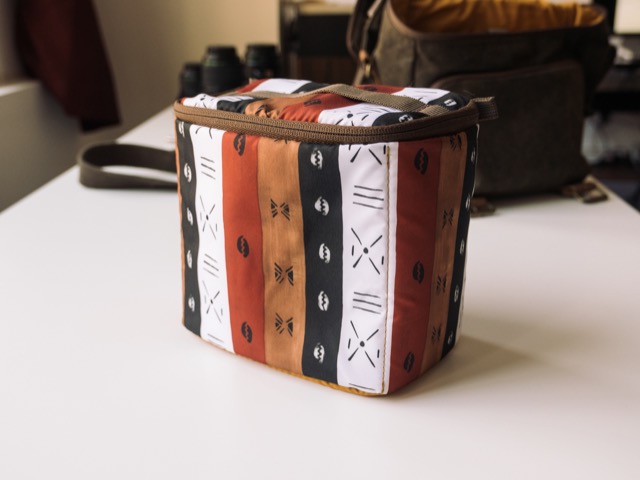 The bag also comes with a padded insert included. It's got the same pattern as the other bits of the bag.
There's a thin handle for yanking it out of the bag if you need to.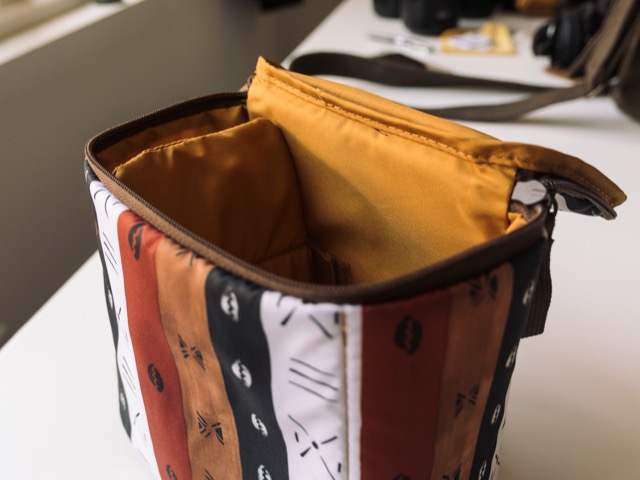 Same golden lining.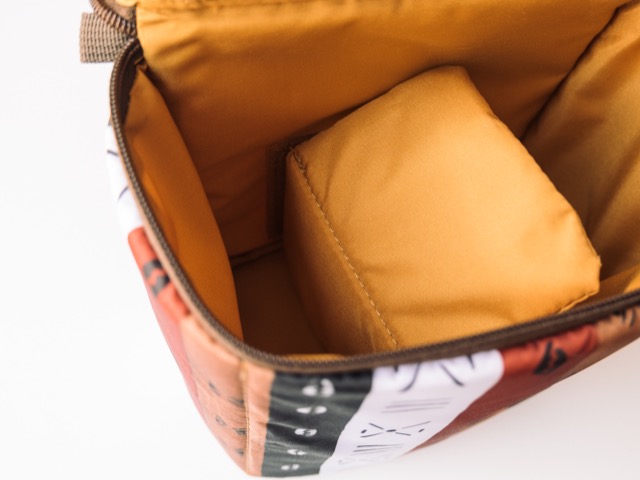 There's a padded divider inside that divides the insert into roughly 1/3 and 2/3 sections. It's got a fold sewn in so you can fold it over a lens to protect the top if necessary.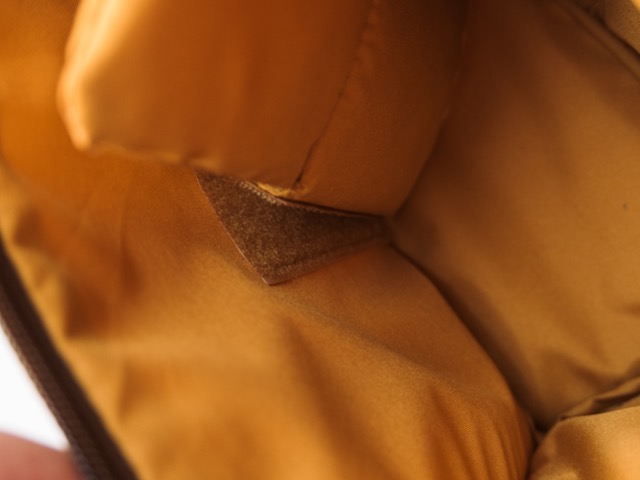 That divider can be removed if you want to just use the whole space of the insert. I never do.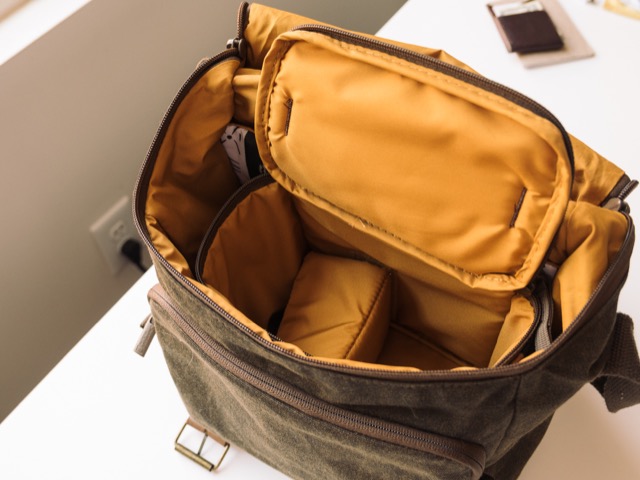 Nestled inside the main bag. It looks pretty snug...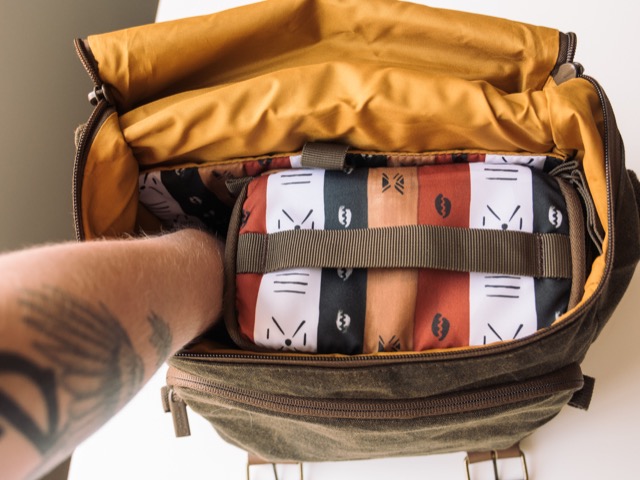 But it doesn't take up quite all of the bag — there's still room next to it for something.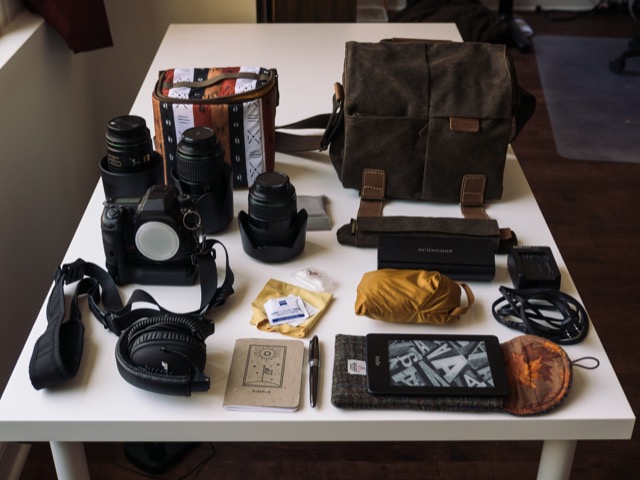 That's it for the bag itself. Let's pack it!
I like using this bag as my "personal item" on a plane. It's small enough to fit under the seat, and if I put all my camera gear in it I save a ton of weight/space in my carry on (I never check bags).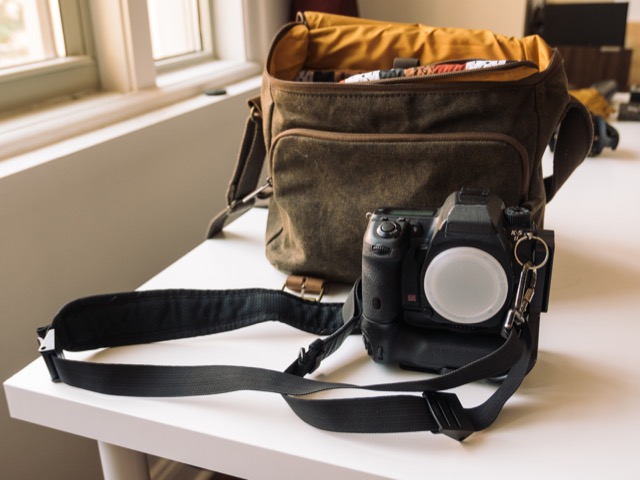 I shoot with a Pentax K5 II with a battery grip and L plate. Unfortunately this bag isn't large enough to hold a gripped, L-plated DSLR with a lens attached ready to go, so you've got to store the body separately.
In practice this isn't a huge deal. I can take out the camera and carry it with its strap as I shoot, and use the bag to hold the spare lenses. Then I disconnect them once I'm finished shooting. It's a bit more work, but worth it for the space savings.
If you don't have a battery grip, the camera CAN be stored with a lens attached in the camera insert.
If you want to keep a gripped & L-plated DSLR with a lens attached in a shoulder bag, the Think Tank Retro 10 is a beefy bag that will work. It's a lot bulkier though, so it's best suited for non-flying.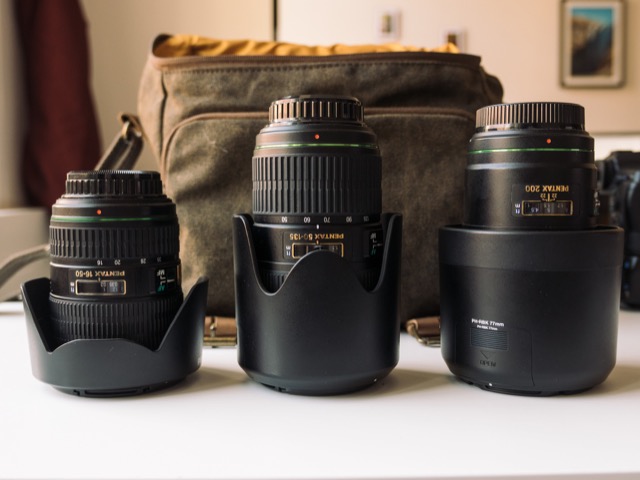 Three lenses that cover everything I need right now. 16-50mm, 50-135mm, and 200mm, all constant f/2.8 and weather sealed like the body.
Sometimes I don't bother with the 200mm, which frees up a lot more space. Or sometimes I take a few primes, which also frees up space. I just wanted to show the max you could cram into the bag for this review.
I'll probably ditch the 50-135 and 200 once the 70-200mm comes out for more savings.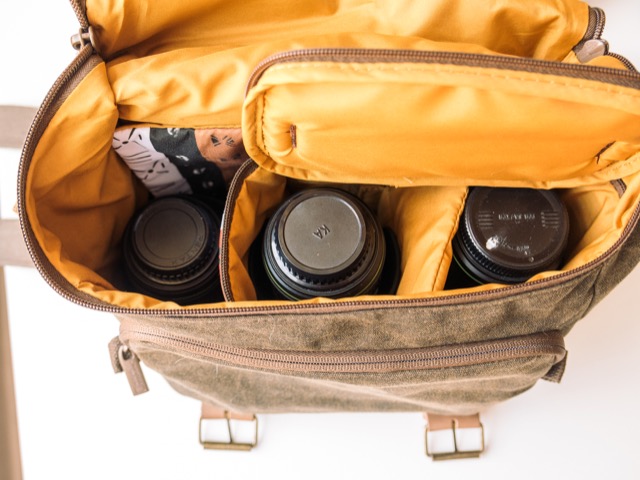 The two big lenses go in the insert, the smaller one goes outside.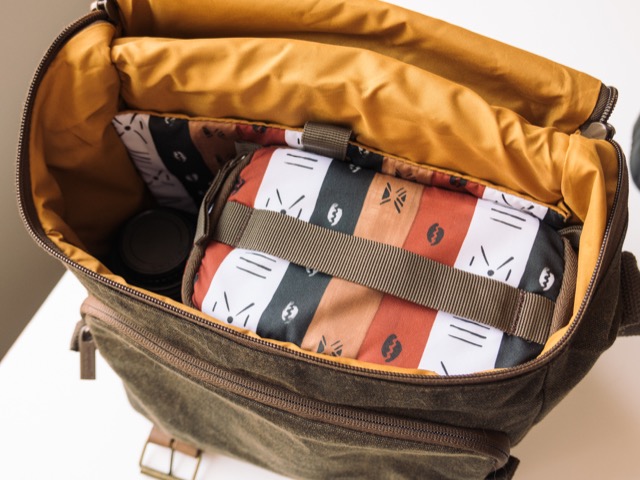 Close the insert lid.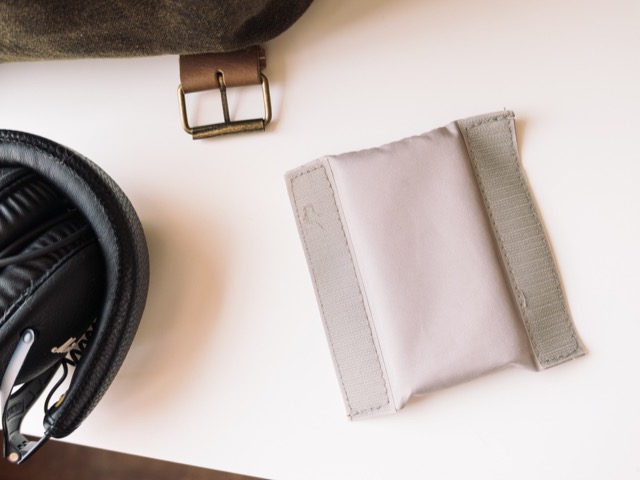 I like to have just a bit of extra padding, so I grab an extra divider from another bag.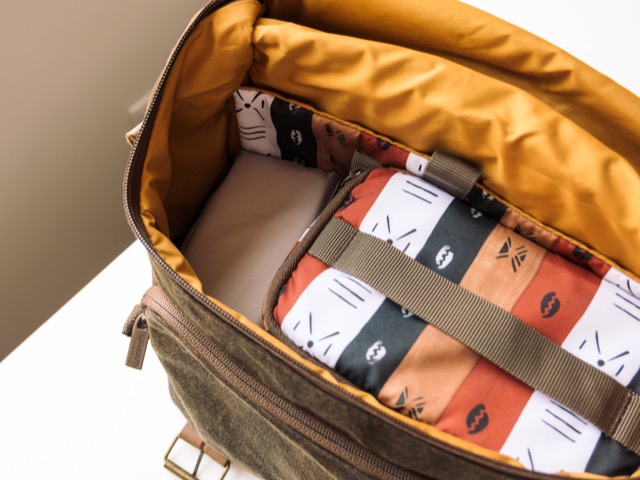 It lays on top of the end cap of the small zoom, just for some extra cushioning. I'm probably just paranoid.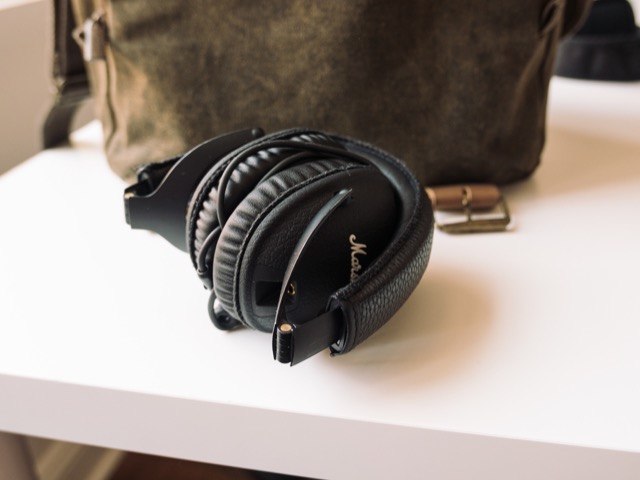 I can't fly without headphones or I go insane. I like keeping them in my personal item because it's easier to get them out once you're on the flight without fucking around with the overhead bin.
I use Marshall Monitors. I know they're big and bulky, but I can't stand using earbuds for more than an hour or so at a time. These fold up nicely and have a couple of other features that are really nice, so for me they're worth the space.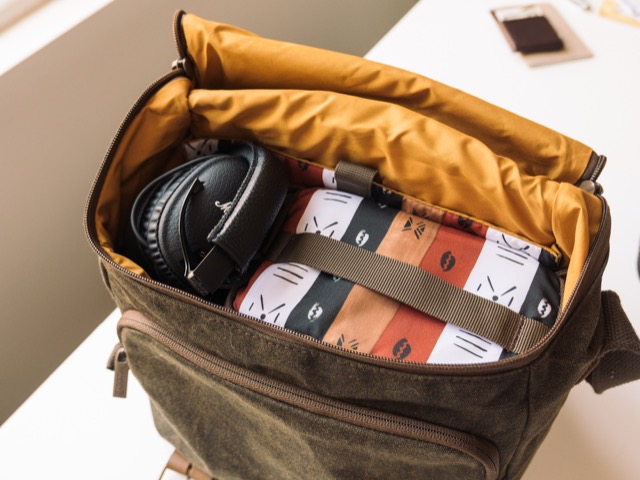 I nestle them on top of the small zoom.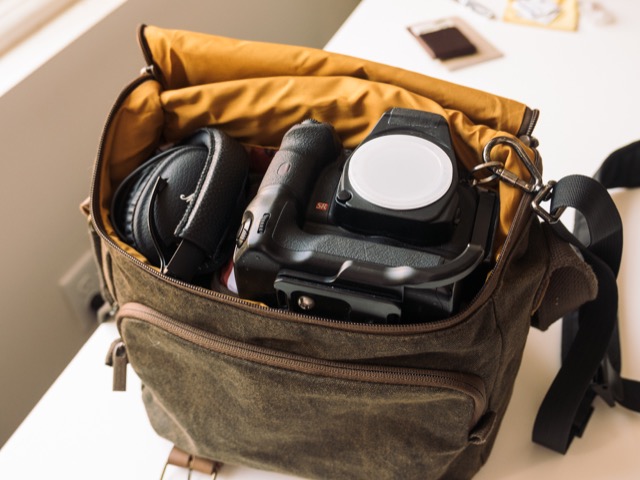 The body goes on top of the camera insert and big lenses.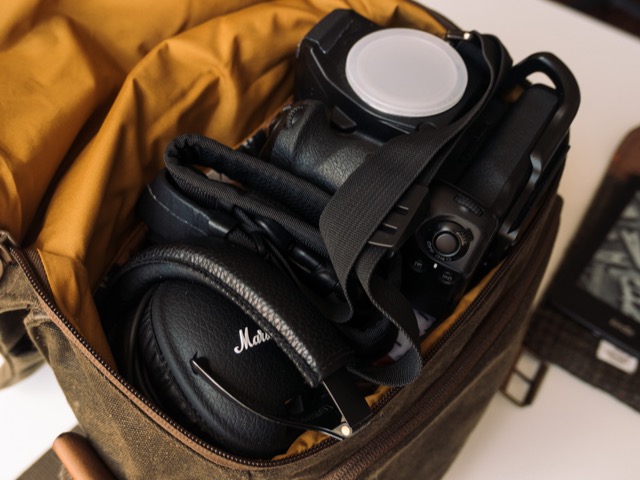 I tuck the strap (Black Rapid Metro) between the body and headphones. I could store it separately, but I have the carabiner loc-tited shut so it'll never, ever come off.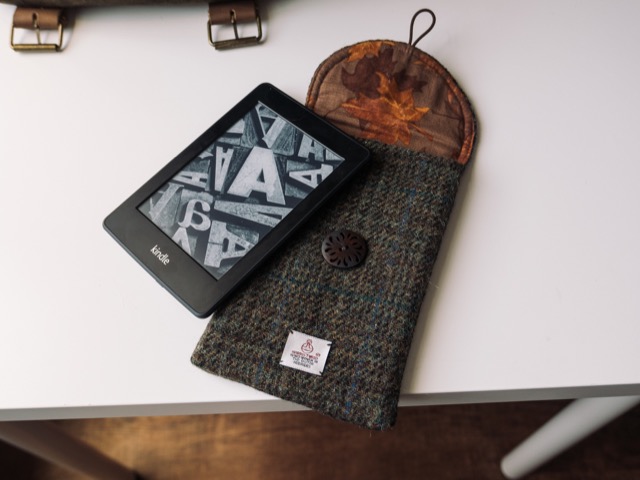 Next necessity for flying: Kindle!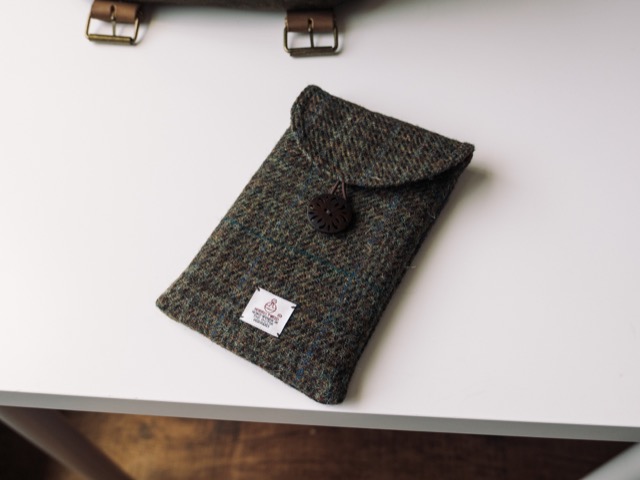 I could save a bit of space by ditching the case, but I like it...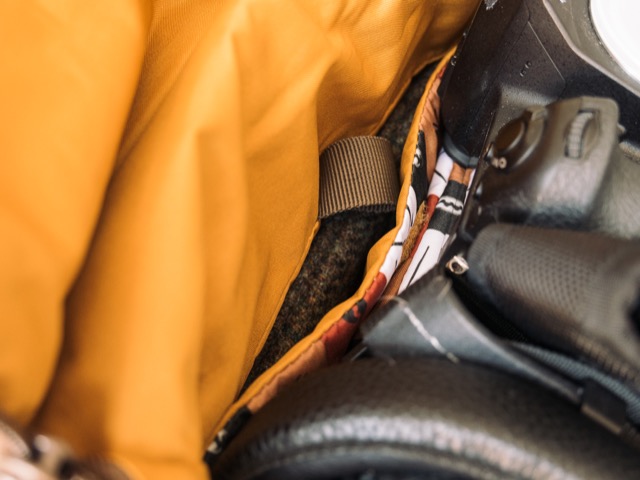 It fits well behind the divider in the main section.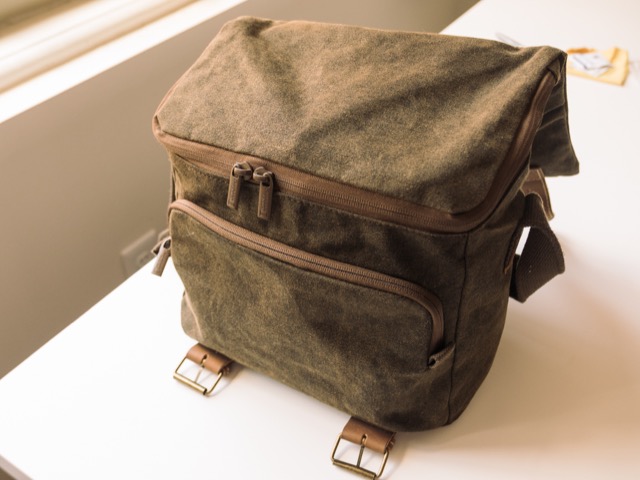 Main section packed!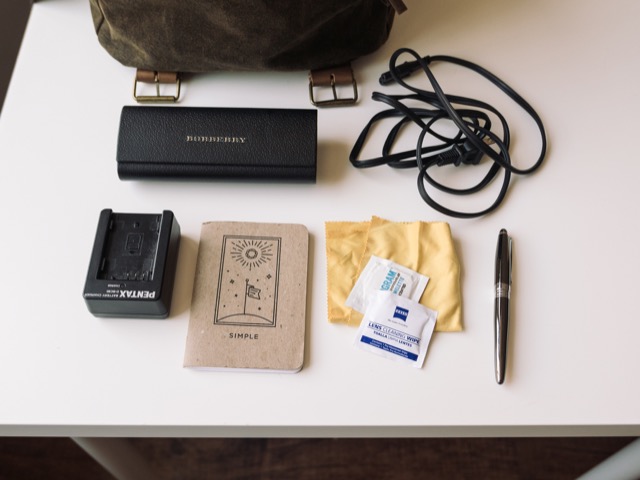 A few other miscellaneous things.
Sometimes I charge both batteries the night before and ditch the charger. It depends on how long I'm traveling for.
I like to have my sunglasses in my personal item to use as a makeshift sleep mask. Not quite a good as a dedicated one, but since I'm bringing them anyway...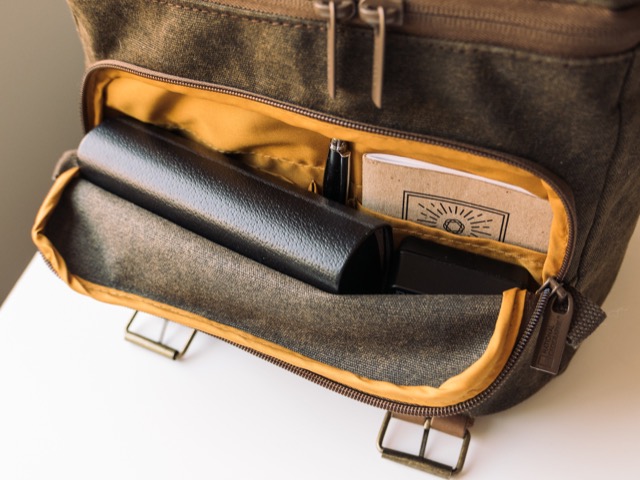 This is a pretty tight fit, but it does fit.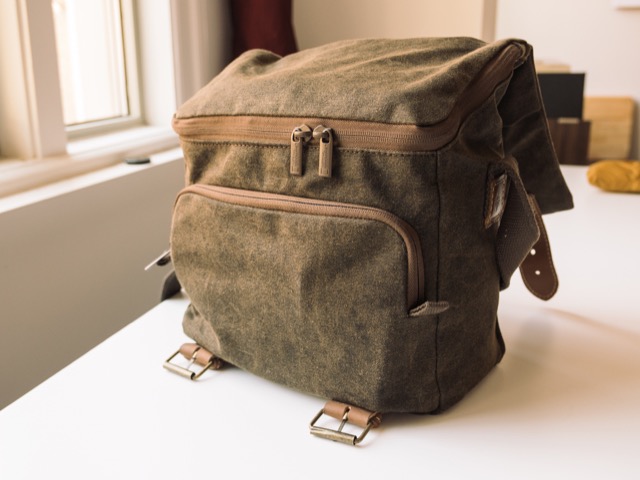 Front packed!
The straps buckle (barely).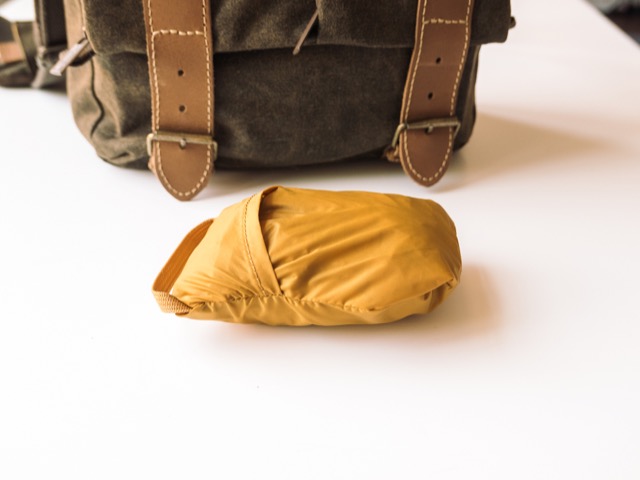 The main fabric of the bag seems like it wouldn't be too bad in the rain, but I bought a rain cover for a National Geographic backpack, so I figured I'd try it on this bag too.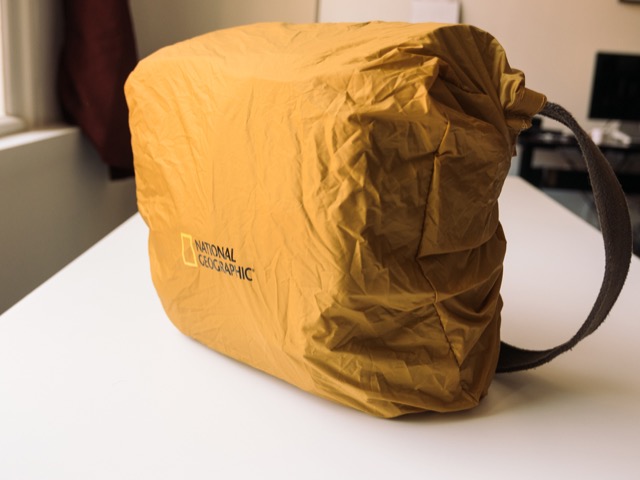 It fits.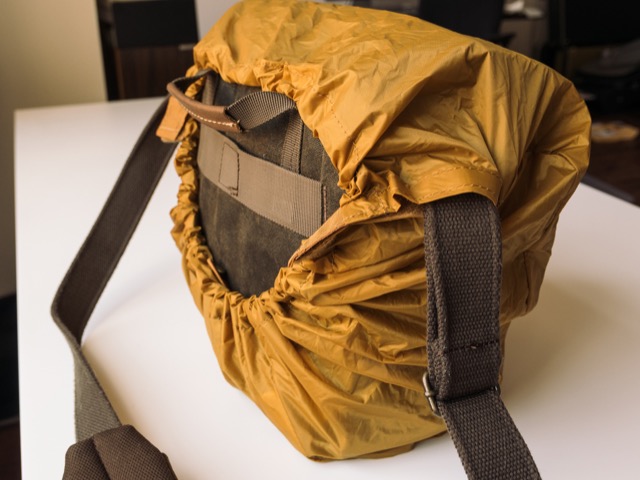 It's a bit loose because it's designed for a backpack, but you can cinch it up with the elastic cord and it does the job.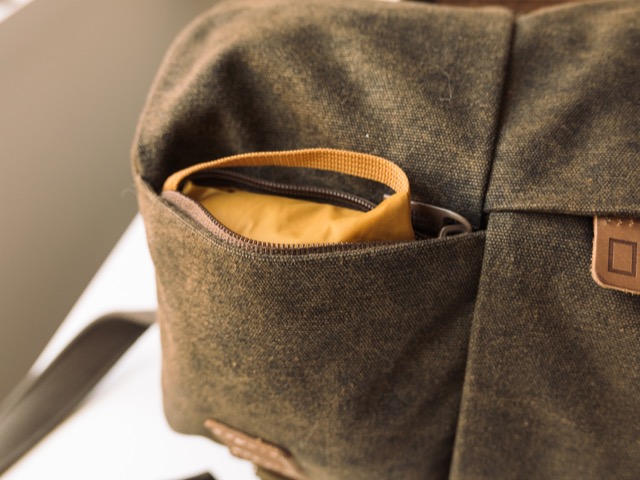 It'll fit in the front pocket too.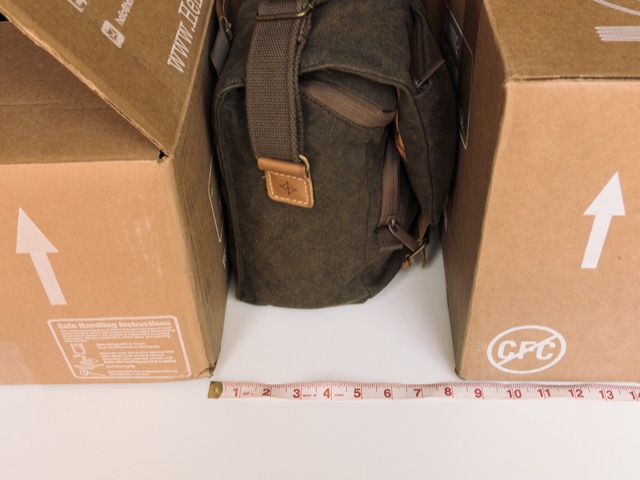 Time for the final verdict. United's site says a personal item should fit within 9" x 10" x 17".
We're good on the short dimension.
(Cardboard boxes to prove I'm not cheating.)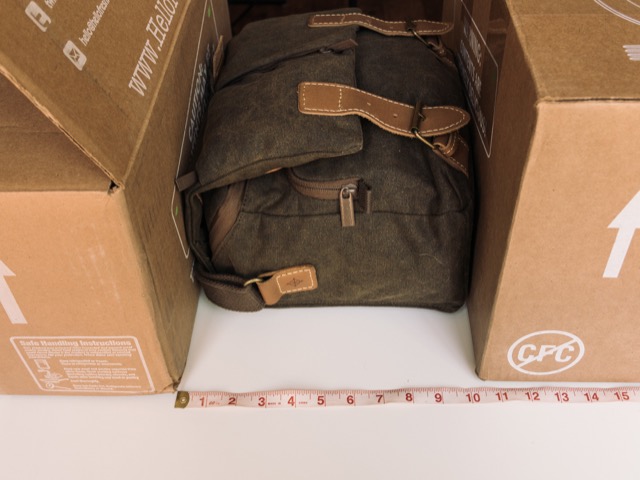 About half an inch past 10". I doubt I'll ever get called out on that (especially since we have room to spare in the other dimensions), but it'll squish a bit if absolutely necessary.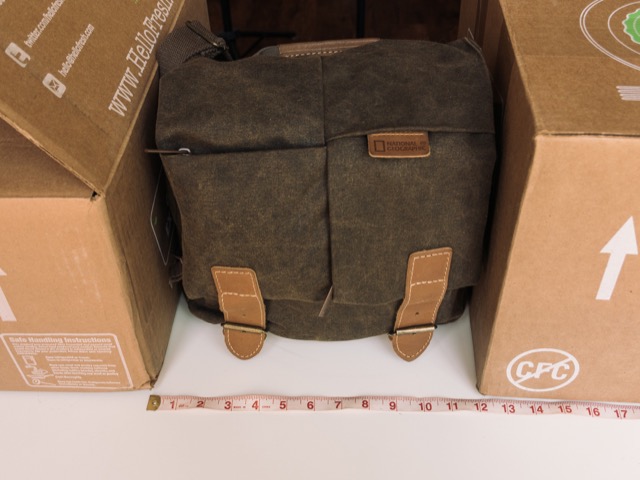 Plenty of room to spare on the wide dimension.
That's it! Obviously you can mix and match stuff as needed (swap a lens for a flash or water bottle, etc).
I hope this was helpful! I'm quite happy with this little bag. It's great for just walking around town, or turning my personal item into a brick of camera gear to free up room in my carry on.